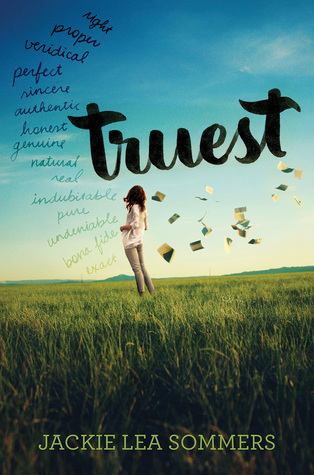 Silas Hart has seriously shaken up Westlin Beck's small-town life. Brand new to town, Silas is different than the guys in Green Lake. He's curious, poetic, philosophical, maddening-- and really, really cute. But Silas has a sister-- and she has a secret. And West has a boyfriend. And life in Green Lake is about to change forever.

Truest is a stunning, addictive debut. Romantic, fun, tender, and satisfying, it asks as many questions as it answers.
Goodreads Summary
Here is another contemporary YA romance that you can sink your imaginative minds into. Bring yourself into small town life with Silas and his sister and experience another love triangle where the girl is the sneaky one here. Her name is West and she is very flirty with newcomer Silas even though she has a man of her own.
One thing that bothers me here, is the blatant infidelity. I can never fully get into a book where one of the characters is attached and openly flirting with someone else. It just irks me. That being said, there is a good story here that many will find something to connect to. I know there are many out there that love conflict in love and this book definitely delivers a healthy serving of "woman player." Also the ending has a pretty interesting twist which I personally did not see coming. Check it out.
3 Stars
Reviewed by Chris
This product or book may have been distributed for review, this in no way affects my opinions or reviews. COPYRIGHT © 2014 LIVE TO READ