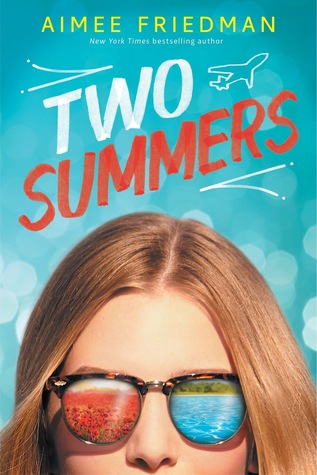 ONE SUMMER in the French countryside, among sun-kissed fields of lavender . . .
ANOTHER SUMMER in upstate New York, along familiar roads that lead to surprises . . .
When Summer Everett makes a split-second decision, her summer divides into two parallel worlds. In one, she travels to France, where she's dreamed of going: a land of chocolate croissants, handsome boys, and art museums. In the other, she remains home, in her ordinary suburb, where she expects her ordinary life to continue — but nothing is as it seems.
In both summers, she will fall in love and discover new sides of herself. What may break her, though, is a terrible family secret, one she can't hide from anywhere. In the end, it may just be the truth she needs the most.
From
New York Times
bestselling author Aimee Friedman comes an irresistible, inventive novel that takes readers around the world and back again, and asks us what matters more: the journey or the destination.
Goodreads Summary
I love the ideas of parallel universes and would love to see my other self and the decisions that "I" have made and how they have turned out. In this book, author Aimee Friedman explores two possible summers that hinge on a phone call. Summer's dad rarely sees her or bothers to spend time with her. For some reason, when he offers to pay for her to visit him in France she jumps at the chance. While at the airport, whether or not she answers the phone call just before getting on the plane determines which destiny she ends up with.
I somewhat liked Summer's character. I felt bad for her, for the most part. Her dad was not at all what he seemed and neither were his "artist friends." I felt like she was let down a lot. She displayed personal growth throughout the novel. Her reactions could be extreme, at times, but they often seemed warranted. The plot was fairly rapid and I enjoyed the switch between the "summer she remained at home" and the "summer she flew to France." The author was very good at connecting the dots and pulling both sides of the stories together to reconcile them in some way. Some of the events of the story really bothered me on a moral, "who would do that?" level. Overall, it was a good summer (pun intended) read.
3 1/2 Stars
This product or book may have been distributed for review, this in no way affects my opinions or reviews. COPYRIGHT © 2014 LIVE TO READ