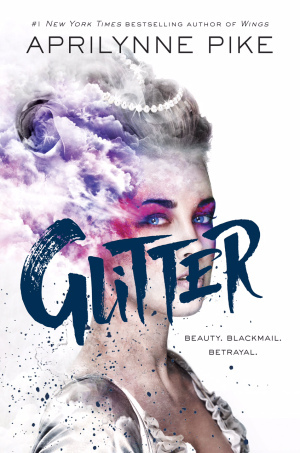 From #1 New York Times bestselling author Aprilynne Pike comes a truly original new novel—Breaking Bad meets Marie Antoinette in a near-future world where the residents of Versailles live like it's the eighteenth century and an almost-queen turns to drug dealing to save her own life.
Outside the palace of Versailles, it's modern day. Inside, the people dress, eat, and act like it's the eighteenth century—with the added bonus of technology to make court life lavish, privileged, and frivolous. The palace has every indulgence, but for one pretty young thing, it's about to become a very beautiful prison.
When Danica witnesses an act of murder by the young king, her mother makes a cruel power play . . . blackmailing the king into making Dani his queen. When she turns eighteen, Dani will marry the most ruthless and dangerous man of the court. She has six months to escape her terrifying destiny. Six months to raise enough money to disappear into the real world beyond the palace gates.
Her ticket out? Glitter. A drug so powerful that a tiny pinch mixed into a pot of rouge or lip gloss can make the wearer hopelessly addicted. Addicted to a drug Dani can sell for more money than she ever dreamed.
But in Versailles, secrets are impossible to keep. And the most dangerous secret—falling for a drug dealer outside the palace walls—is one risk she has to take.
Goodreads Summary
Danica has a bit of rags to riches story. A stroke of luck (but not for the victim) ends in Danica being the King's promised bride. It sounds like a good story, but for Danica, its not. She doesn't want to marry someone known for cruelty. She wants to escape and see what the outside world has to offer. Unfortunately, Glitter, an addictive drug, is her only way out. Personally, I don't think I could do what she chooses to do, freedom or not.
Danica is a brave young girl driven by anxiety to get out of Versailles. The king is a horrible, mean person that no one in their right head would want to marry. I liked Danica's character. Even when she was seething with anxiety on the inside, she managed to remain calm on the outside (also, utilizing corsets to help deal with her anxiety). I thought the concept of Glitter was fascinating. It fit into the Versailles theme and the current prevailing drug problem going on today. I loved the elaborate court and setting. The author has a nice cadence to her writing style that I really enjoy. I loved the character development of Danica and how she grew throughout the novel. I would highly recommend this book to young adult/teen readers.
4 Stars
This product or book may have been distributed for review, this in no way affects my opinions or reviews. COPYRIGHT © 2014 LIVE TO READ