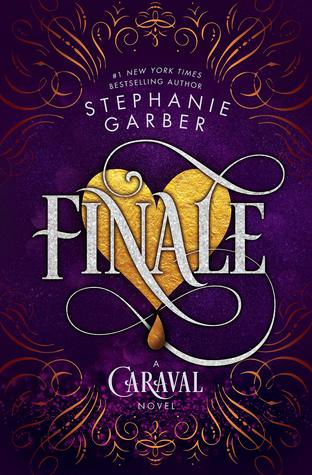 A love worth fighting for. A dream worth dying for. An ending worth waiting for.
It's been two months since the Fates were freed from a deck of cards, two months since Legend claimed the throne for his own, and two months since Tella discovered the boy she fell in love with doesn't really exist.
With lives, empires, and hearts hanging in the balance, Tella must decide if she's going to trust Legend or a former enemy. After uncovering a secret that upends her life, Scarlett will need to do the impossible. And Legend has a choice to make that will forever change and define him.
Caraval is over, but perhaps the greatest game of all has begun. There are no spectators this time—only those who will win, and those who will lose everything.
Welcome, welcome to Finale. All games must come to an end…
Goodreads Summary
I was so excited when our library received this arc! I have loved the first two books in this series and regularly recommend this book to patrons from teens to adults. It's difficult to write a review without any accidental spoilers. I really enjoyed the world-building that Garber is so famous for. The scenery is vivid and the dialogue jumps off of the page. I was a little surprised that this book focused so much on Tella. I can't decide whether I prefer Tella's character over Scarlett's, but I was anticipating more of Scarlett's point of view. I would have preferred to see the sisters develop a deeper relationship throughout this book, but I was pretty happy with the relationships that continued to deepen. Tella and Legend are legendary in the book world (as far as relationships go) to me. Scarlett and Julian are an interesting twist. Donatella, who I regarded as a strong character, seemed to exist merely as part of a love triangle (which I admit to hating).
The plot was fairly strong. I think I appreciated the first two books more, but I still enjoyed how fast-paced and easy it was to read through the lengthy novel. I had trouble putting this book down and even took it to the beach with me. I loved learning more about the Fates; they were such a dark and mysterious part of this trilogy for me and I finally felt more satisfied as this book was concluding. I wish the ending was a little more fleshed out. I have a lot of unanswered questions and I'm still hoping for a prequel or two.
4 Stars
This product or book may have been distributed for review, this in no way affects my opinions or reviews. COPYRIGHT © 2014 LIVE TO READ