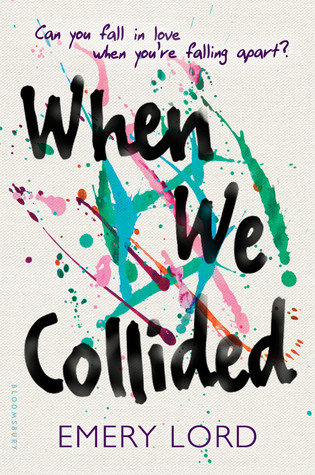 We are seventeen and shattered and still dancing. We have messy, throbbing hearts, and we are stronger than anyone could ever know…
Jonah never thought a girl like Vivi would come along.
Vivi didn't know Jonah would light up her world.
Neither of them expected a summer like this…a summer that would rewrite their futures.
In an unflinching story about new love, old wounds, and forces beyond our control, two teens find that when you collide with the right person at just the right time, it will change you forever.
Goodreads Summary
Vivi is wild, crazy, and real. Her character is raw and unapologetic. I somewhat liked her as a character, but she also drove me crazy. Her behavior was often inappropriate, but her medical condition is used somewhat as an excuse. I don't really think that's an excuse if the person knows and can reasonably treat it, however. Jonah, a more cautious and careful character, falls in love with Vivi. Their love is both explosive and immediate (yes, there is a little of inst-love). Jonah gets pulled deeper and deeper into Vivi's wild world, but Jonah may have to consider just how far he is willing to go for his love.
I liked the story, knew where the ending was going, and hated the ending. I understand that this is meant to be a "deep" book, but I never liked disappointing endings (even if they're somewhat realistic). Vivi's character was almost tiring and overwhelming to read about. I liked the exposure of the problems that Vivi had, but it's sad to read about at the same time. I felt bad for Jonah because I feel like he got left in the dust a little bit. Overall, I would not reread this book, but it may be a good read for those who enjoy reading about mental issues and fast-paced books!
3 Stars
This product or book may have been distributed for review, this in no way affects my opinions or reviews. COPYRIGHT © 2014 LIVE TO READ