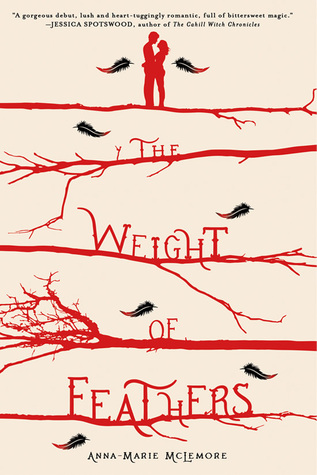 For twenty years, the Palomas and the Corbeaus have been rivals and enemies, locked in an escalating feud for over a generation. Both families make their living as traveling performers in competing shows—the Palomas swimming in mermaid exhibitions, the Corbeaus, former tightrope walkers, performing in the tallest trees they can find.
Lace Paloma may be new to her family's show, but she knows as well as anyone that the Corbeaus are pure magia negra, black magic from the devil himself. Simply touching one could mean death, and she's been taught from birth to keep away. But when disaster strikes the small town where both families are performing, it's a Corbeau boy, Cluck, who saves Lace's life. And his touch immerses her in the world of the Corbeaus, where falling for him could turn his own family against him, and one misstep can be just as dangerous on the ground as it is in the trees.
Beautifully written, and richly imaginative, The Weight of Feathers is an utterly captivating young adult novel by a talented new voice.
Goodreads Summary
Here we have a new magic twisted take on the Capulet's and the Montague's in a circus performing love infused spectacular. Instead of Romeo and Juliet, we have Cluck and Lace and the families are the Corbeau's and the Ploma's respectively. The forbidden insatiable love rides on as these two inseparable lovers are carried out in another light.
What I loved about Romeo and Juliet is all contained in this book, and when you add in the magic it makes it that much more awesome. You have the deep rooted feud between the families, and the chance meeting of lovers that cross the family line and toss the worlds colliding together. Without revealing anything before you read the book yourself, the start of the fight between the families is discussed in the story. It is so unexpected and crazy that everyone who reads will love it. The magic in the book is subtle at times, but then something really cool happens here and there that gives you that tingly glimmer of amazement. In a credit to the author, everything is done in good taste. The characters are great! The story is even better! All that is left to say is, Read this yourself! You won't regret this journey into modern fantasy.
5 Stars
Reviewed by Chris
This product or book may have been distributed for review, this in no way affects my opinions or reviews. COPYRIGHT © 2014 LIVE TO READ