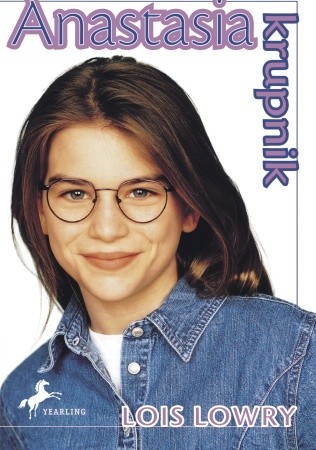 To Anastasia Krupnik, being ten is very confusing. For one thing, she has this awful teacher who can't understand why Anastasia doesn't capitalize or punctuate her poems. Then, there's Washburn Cummings, a very interesting sixth-grade boy who doesn't even know she is alive. Even her parents have become difficult. They insist she visit her 92-year-old grandmother who can never remember Anastasia's name. On top of that, they're going to have a baby -- at their age! It's enough to make a kid want to do something terrible. Anastasia knows that if she didn't have her secret green notebook to write in, she would never make it to her eleventh birthday.
Goodreads Summary
This is a girl who sees the world in a different light than everyone else out there. She is intelligent, witty, and quirky in all the right ways for a ten year-old to be incredibly successful in the world. She is far ahead of anyone her age and has a way of describing things that will make you laugh and cry in some cases.
Lowry weaves a delightful story here that many have come to strongly associate with being a stable piece of their lives growing up. You go and look up this story or mention it to people and it will still ring the same buzz that it did when the series was originally released. I love Anastasia's personality and I believe that everyone will fall in love with her within a few paragraphs. Please, I implore you, if you haven't heard of this book, or just haven't gotten around to it yet, read it! You will not be disappointed.
5 Stars
Reviewed by Chris
This product or book may have been distributed for review, this in no way affects my opinions or reviews. COPYRIGHT © 2014 LIVE TO READ