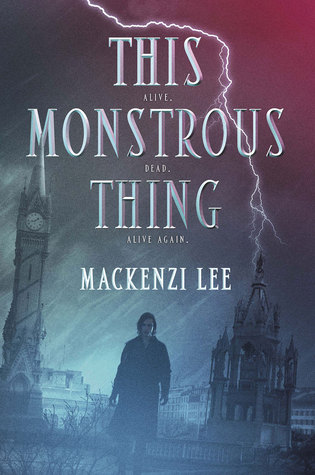 In 1818 Geneva, men built with clockwork parts live hidden away from society, cared for only by illegal mechanics called Shadow Boys. Two years ago, Shadow Boy Alasdair Finch's life shattered to bits.
His brother, Oliver—dead.
His sweetheart, Mary—gone.
His chance to break free of Geneva—lost.
Heart-broken and desperate, Alasdair does the unthinkable: He brings Oliver back from the dead.
But putting back together a broken life is more difficult than mending bones and adding clockwork pieces. Oliver returns more monster than man, and Alasdair's horror further damages the already troubled relationship.
Then comes the publication of Frankenstein and the city intensifies its search for Shadow Boys, aiming to discover the real life doctor and his monster. Alasdair finds refuge with his idol, the brilliant Dr. Geisler, who may offer him a way to escape the dangerous present and his guilt-ridden past, but at a horrible price only Oliver can pay…
Goodreads Summary
I have always loved the different takes on the Frankenstein story that have come out over the years and this one is no exception. The difference here is that there is a whole network of doctors that piece together monsters underground and are called Shadow Boys. One of these Shadow Boys has lost almost everything that has been important to him, and he tries to bring his brother back from the dead, in hopes that he can still hold tight something that he loves. The problem is, that reanimated people don't come back the same beautiful people they used to be. They come back as monsters.
You really feel for Alasdair in this story. He is under so much stress from loosing his family, re-animating his brother, and failing to live up to the expectations of his father. Its a lot to go through in a short period of time. I loved the twist that the book, "Frankenstein" written in the story seems to have been written about Alasdair, and he can't figure out who knows his story and wrote it down. The characters were animated by the author very well and because of this, were very easy to relate to. In general, this is a good story and anyone who liked the original will find this one re-animating your love for monsters made from parts.
4 Stars
Reviewed by Chris
This product or book may have been distributed for review, this in no way affects my opinions or reviews. COPYRIGHT © 2014 LIVE TO READ