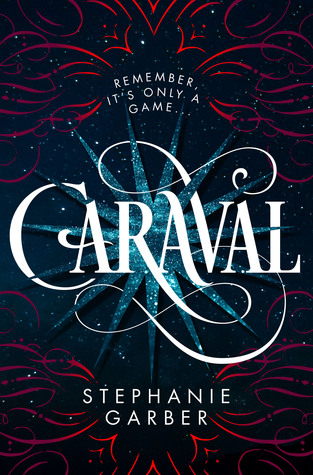 Before you enter the world of Caraval, you must remember that it's all a game . . .

Scarlett has never left the tiny island where she and her beloved sister, Tella, live with their ruthless father. Now Scarlett's father has arranged a marriage for her, and Scarlett thinks her dreams of seeing Caraval, the legendary, once-a-year performance where the audience participates in the show, are over.

Then, Scarlett's long-dreamt of invitation to Caraval finally arrives. So, Tella enlists a mysterious sailor's help to whisk Scarlett away to this year's show. But as soon as the trio arrives, Tella is kidnapped by Caraval's mastermind organizer, Legend.

Scarlett has been told that everything that happens during Caraval is only an elaborate performance. But she nonetheless soon becomes enmeshed in a game of love, heartbreak, and magic with her sister, with Legend, and with the other players in the game. And whether Caraval is real or not, she must find Tella before the five nights of the game are over, a dangerous domino effect of consequences is set off, and her sister disappears forever.
Goodreads Summary
I loved this book; it really lived up to the hype! Scarlett and her sister have desperately wanted to see Caraval, an amazing and hypnotic performance. Her father rules the pair with an iron fist. If Tella and Scarlett want to see Caraval they will have to resort to drastic actions. When they arrive at Caraval, the performance is much more than the two bargained for and Scarlett must find her sister, Tella, if she wants to see her alive again.
Scarlett's character was endearing. I can't imagine being told I'm going to marry someone I don't know and that it will all be arranged for me. She is remarkably calm about the upcoming nuptials. Tella is a smart, but sometimes manipulative character. I wasn't sure what to make of her, but I did believe that she had her sisters' best interests at heart. I loved the love interest that I wasn't sure if he was or wasn't going to end up being the love interest. I did think he had an ulterior motive most of the book though. Most of the characters aside from Scarlett came off as secretive and a little devious; many things were not what they seemed (including people!). Overall, this was a fabulous read and incredibly well-written.
5 Stars
This product or book may have been distributed for review, this in no way affects my opinions or reviews. COPYRIGHT © 2014 LIVE TO READ