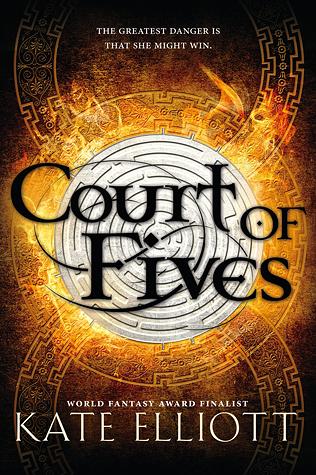 On the Fives court, everyone is equal.

And everyone is dangerous.
Jessamy's life is a balance between acting like an upper-class Patron and dreaming of the freedom of the Commoners. But away from her family, she can be whomever she wants when she sneaks out to train for the Fives, an intricate, multilevel athletic competition that offers a chance for glory to the kingdom's best competitors.
Then Jes meets Kalliarkos, and an improbable friendship between the two Fives competitors—one of mixed race and the other a Patron boy—causes heads to turn. When Kal's powerful, scheming uncle tears Jes's family apart, she'll have to test her new friend's loyalty and risk the vengeance of a royal clan to save her mother and sisters from certain death.
In this imaginative escape into an enthralling new world, World Fantasy Award finalist Kate Elliott's first young adult novel weaves an epic story of a girl struggling to do what she loves in a society suffocated by rules of class and privilege.
Goodreads Summary
This is one of the best books I have read in 2015. Jessamy is one of all my all-time favorite characters. Full of diverse characters and a racing plot-line,
Court of Fives
is a book you definitely need to pick up. Jessamy's father is a Patron and not allowed to marry her mother, a Commoner. When their benefactor passes away, a new benefactor forces her father to marry his relative (the benefactor's relative). Her father is forced to set aside her mother and their children, leaving them an uncertain future. Jessamy wishes to run and compete in the court of fives, a games aimed at the Patrons' pleasure, but one that will help her earn money for her family. When she finds out that the fate of her siblings and mother may be far more disastrous, she has to decide if she can ask a high-ranking Patron for help.
Jessamy is a strong and dedicated female character. She is brave, intelligent, and kind-all characteristics that I love in a heroine. I loved how her sisters and mother truly felt like a warm family even through the pages of a book. Their familial ties are not easily broken. I felt bad for the decision that her father needed to make, but felt he could have done more for his family and I was a little disappointed in his character. The love interest was certainly interesting...and forbidden. I liked how Jessamy did not indulge in insta-love and instead aimed her heart at her family. The book was filled with wildly descriptive scenes and kept me turning the pages long into the night. This book is highly recommended to young adult/teen readers.
4 Stars
This product or book may have been distributed for review, this in no way affects my opinions or reviews. COPYRIGHT © 2014 LIVE TO READ