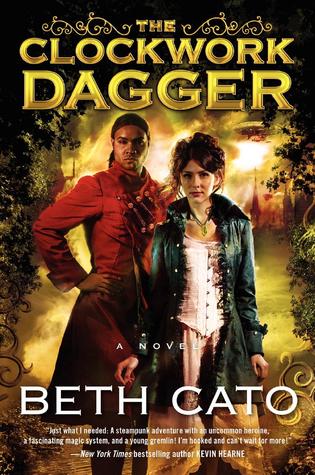 The Clockwork Dagger
is the story of a gifted young healer, Octavia Leander, who sets off on her first mission. Her goal is to get to a plague-ridden village and help the people there, but a series of strange occurrences—including murder—rock the airship she is traveling on. The dashingly attractive steward may be one of the infamous Clockwork Dagger assassins, her cabin-mate hides secrets (and an alarming penchant for writing pulp novels), and Octavia is beginning to discover that her magical gift for healing may be even more powerful than anyone thought. In short, this airship voyage is much more eventful than Octavia expected, and she's stumbled into the midst of a conspiracy that may reach the crown itself.
Beth Cato
resides in the outskirts of Phoenix, AZ. Her husband Jason, son Nicholas, and crazy cat keep her busy, but she still manages to squeeze in time for writing and other activities that help preserve her sanity. She is originally from Hanford, CA, a lovely city often pungent with cow manure.
1) What was the main inspiration for the novel?
I wanted to write about healing magic within a steampunk setting. It struck me that I could do a version of Agatha Christie's Murder on the Orient Express, on an airship, with a healer as my lead character.
2) Who is your favorite character in the book?
That's such a hard question! I have to say Leaf the gremlin. He's like a manic winged, green, cat-squirrel. It tickles me to bits that readers consider Leaf one of the highlights of the book, too.
3) Are there any scenes in the book you would rather have ended differently?
As a reader, interrupted kiss scenes always bug me. Tension ramps up in a wonderful way and then something awful happens to shatter the moment. It's enough to make me grouse out loud. Now I'm guilty of that same sin. Sorry, readers!
4) What are 5 things about the book you think the reader should know?
- It's epic fantasy blended with steampunk, with a dash of mystery and romance.
- I don't believe secondary fantasy worlds should be white-washed. My characters are colorful and diverse.
- Octavia hears injuries as music and uses that skill to heal.
- The setting is inspired by the gloom of post-World War I Europe.
- Gremlins love cheese!
5) Will this book begin a series?
It's the first book of two, but I'm open to writing more in the world.
6) Are your currently working on anything else?
I have another steampunk series in the works! This one is set on Earth.
This product or book may have been distributed for review, this in no way affects my opinions or reviews. COPYRIGHT © 2014 LIVE TO READ