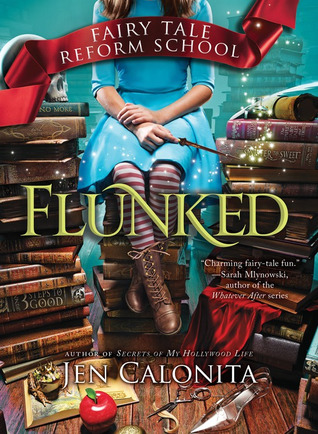 Would you send a villain to do a hero's job? An exciting new twisted fairy tale series from award-winning author Jen Calonita.
Full of regret, Cinderella's wicked stepmother, Flora, has founded the Fairy Tale Reform School with the mission of turning the wicked and criminally mischievous into upstanding members of Enchantasia.
Impish, sassy 12-year-old Gilly has a history of petty theft and she's not too sorry about it. When she lifts a hair clip, she gets tossed in reform school-for at least three months. But when she meets fellow students Jax and Kayla, she learns there's more to this school than its sweet mission. There's a battle brewing and she starts to wonder: can a villain really change?
Goodreads Summary
Can villains ever truly change their colors? Would anyone imagine a villain founding a Fairy Tale Reform School? When I first started this book I didn't fully believe that that was possible. Gilly, the main character, isn't a terrible child but she is regularly in trouble and known for theft. Her family is very poor and Gilly is just trying to help them; unfortunately, her efforts are illegal. When she is thrown into the Reform School she isn't very happy about it; however, she soon adjusts and meets some friends. Is this Reform School really what it looks like?
I enjoyed Gilly's character. She was fun and easy to read about. I didn't like her thieving, but I understood how hard it must be to watch your family in poverty. Her friends were interesting and helpful to the plot. I kept a careful watch on the villains. Overall, I really loved the plot and ending of this book. Flunked is ideal for middle grade readers and anyone who is a child at heart.
4 Stars
Jen Calonita
is the author of the
Secrets of My Hollywood Life
series and other books like
Sleepaway Girls
and
Summer State of Mind
, but
Fairy Tale Reform School
is her first middle grade series. She rules Long Island, New York with husband Mike, princes Tyler and Dylan, and Chihuahua Captain Jack Sparrow, but the only castle she'd ever want to live in is Cinderella's at Disney World. She'd love for you to drop her a line at
jencalonitaonline.com
or keep the fairy tale going at
http://books.sourcebooks.com/enchantasia/
If you get sentenced to Fairy Tale Reform School, it will help to have an ally. Take the quiz and find out who your mentor would be.
GIVEAWAY:
a Rafflecopter giveaway
This product or book may have been distributed for review, this in no way affects my opinions or reviews. COPYRIGHT © 2014 LIVE TO READ