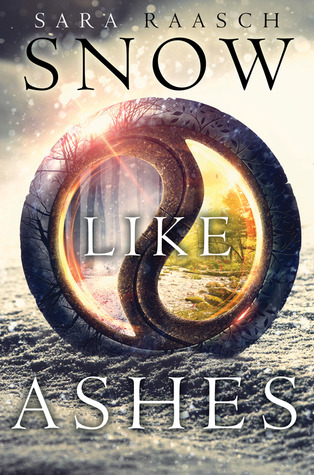 A heartbroken girl. A fierce warrior. A hero in the making.

Sixteen years ago the Kingdom of Winter was conquered and its citizens enslaved, leaving them without magic or a monarch. Now, the Winterians' only hope for freedom is the eight survivors who managed to escape, and who have been waiting for the opportunity to steal back Winter's magic and rebuild the kingdom ever since.

Orphaned as an infant during Winter's defeat, Meira has lived her whole life as a refugee, raised by the Winterians' general, Sir. Training to be a warrior—and desperately in love with her best friend, and future king, Mather — she would do anything to help her kingdom rise to power again.

So when scouts discover the location of the ancient locket that can restore Winter's magic, Meira decides to go after it herself. Finally, she's scaling towers, fighting enemy soldiers, and serving her kingdom just as she's always dreamed she would. But the mission doesn't go as planned, and Meira soon finds herself thrust into a world of evil magic and dangerous politics – and ultimately comes to realize that her destiny is not, never has been, her own.
Goodreads Summary
1) If you could be any character in your book who would you be?
Ooo I've never gotten this question before...and it's surprisingly tough! All of my characters feel kind of like my children and I adore them for completely different reasons, so it's hard to pinpoint who I would want to be. Also, a lot of them have led really horrible lives -- for instance, I definitely would not want to be any of the Winterians who have lived in the Spring work camps for sixteen years.
Hmm. Can I be Meira's chakram?
2) What was the hardest aspect of developing Meira's character?
Keeping her reined in! She can be such a wild, snarky girl, and a lot of the edits surrounding her involved toning down her personality so she didn't seem too over-the-top. She's very passionate and fierce, but that passion and ferocity hide a lot of insecurities, so it was also difficult getting beyond her snarkiness to find out what was really driving her through the story, aside from physical outside influences. This all contributed to why I love her so much -- she's complicated and vulnerable and intense, and I hope other people fall in love with her too!
3) What is the one thing you would do if you were magical?
Give myself super fighting abilities and become a vigilante hero. No, seriously.
4) What was your favorite scene to write about?
I love love love Chapter 26! It was inspired by the end sequence of the video game Fable II, and I won't go into too much detail to avoid spoilers, but it was heartbreaking to write.
5) How did you come up with the setting for your novel?
I honestly don't remember. I first started developing this book when I was a preteen, and much of the original inspiration has been lost in my dark and dusty memory.
6) Will we get to look forward to a second book?
Yes! HarperCollins will be publishing the entire trilogy, with Book 2 coming in 2015 and Book 3 in 2016!
And here are my bio & links:
Bio: Sara Raasch has known she was destined for bookish things since the age of five, when her friends had a lemonade stand and she tagged along to sell her hand-drawn picture books too. Not much has changed since then — her friends still cock concerned eyebrows when she attempts to draw things and her enthusiasm for the written word still drives her to extreme measures. Her debut YA fantasy, SNOW LIKE ASHES, the first in a trilogy, comes out October 14, 2014 from Balzer + Bray. It does not feature her hand-drawn pictures.
This product or book may have been distributed for review, this in no way affects my opinions or reviews. COPYRIGHT © 2014 LIVE TO READ