An excerpt of Jode Ellis, aka Conquest, of RIDERS
In this excerpt, we hear main character Gideon's early impressions of Jode. Enjoy!
Jode was nineteen, like Sebastian. He'd grown up in Londan and was in his first year at Oxford. The Ellises had owned land for generations but had recently—as in this century—expanded into banking. From what I gathered, his family was in the business of making truckloads of money.
Jode knew about everything. We learned that we could throw out any random name or place, and he could Jodepedia it for us. The flip side was that he came off a little superior sometimes. A lot of the time.
VERONICA ROSSI is a

New York Times

bestselling author of fiction for young adults. She completed undergraduate studies at UCLA and then went on to study fine art at the California College of the Arts in San Francisco. She lives in Northern California with her husband and two sons. When not writing, she enjoys reading, painting, and counting down the minutes until she can get back to making up stories about imaginary people.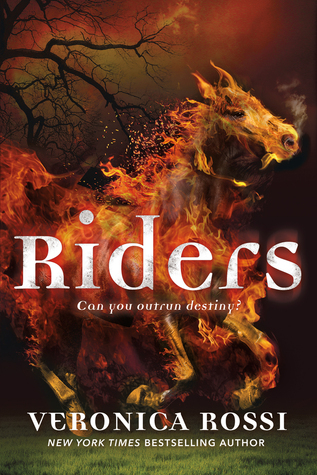 For eighteen-year-old Gideon Blake, nothing but death can keep him from achieving his goal of becoming a U.S. Army Ranger. As it turns out, it does.
Recovering from the accident that most definitely killed him, Gideon finds himself with strange new powers and a bizarre cuff he can't remove. His death has brought to life his real destiny. He has become War, one of the legendary four horsemen of the apocalypse.
Over the coming weeks, he and the other horsemen--Conquest, Famine, and Death--are brought together by a beautiful but frustratingly secretive girl to help save humanity from an ancient evil on the emergence.
They fail.
Now--bound, bloodied, and drugged--Gideon is interrogated by the authorities about his role in a battle that has become an international incident. If he stands any chance of saving his friends and the girl he's fallen for--not to mention all of humankind--he needs to convince the skeptical government officials the world is in imminent danger.
But will anyone believe him?
I can't imagine being one of the four horsemen of the apocalypse, but if I had to be one, I would choose War. Gideon discovers he is the embodiment of War the hardest way possible-via dying. Daryn appears to help Gideon on his new quest: to find the other horsemen. They travel to discover who the horsemen are and what they're eventually duties will be.
Gideon was portrayed as a stereotypical male character. It would have been nice if he had more depth to him, but I did like how he was brave in the face of death and very patriotic towards his country. The reader will learn a lot about Gideon from the interrogating officer at the beginning of the story (Gideon is telling the story of his "death" and what occurred afterwards to an interrogating officer). I think it can be hard to write from the perspective from a male character. Daryn was a "sort of" love interest. Gideon had better things to do and more to worry about than developing a serious romance with Daryn. I enjoyed meeting the other horsemen and unraveling the author's take on the four horsemen of the apocalypse. I found it really interesting and a fresh view. The author spends a lot of time developing the characters and interactions between the four horsemen. Overall, a young adult/teen reader will likely find this a fun read.