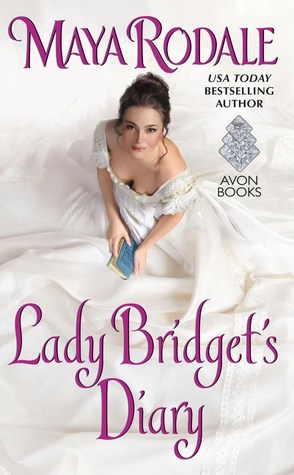 In the first novel of Maya Rodale's stunning new series, an American heiress must learn to navigate London society and an infuriatingly irresistible rake . . .
Lord Darcy is the quintessential Englishman: wealthy, titled, impossibly proper, and horrified that a pack of Americans has inherited one of England's most respected dukedoms. But his manners, his infamous self-restraint, and his better judgment fly out the window when he finds himself with the maddening American girl next door.
Lady Bridget Cavendish has grand—but thwarted—plans to become a Perfect Lady and take the haute ton by storm. In her diary, Bridget records her disastrous attempts to assimilate into London high society, her adoration of the handsome rogue next door, her disdain for the Dreadful Lord Darcy, and some truly scandalous secrets that could ruin them all.
It was loathing at first sight for Lady Bridget and Lord Darcy. But their paths keep crossing . . . and somehow involve kissing. When Lady Bridget's diary goes missing, both Darcy and Bridget must decide what matters most of all—a sterling reputation or a perfectly imperfect love.
Goodreads Summary
I expected this book to be more of an "English" romance, but the author combined England with America and focused more on the American theme. Bridget and her family tries to conform to English high society, but not all of the attempts go well and Bridget simply must write down the mishaps, trials, and errors in her diary. Some of what she writes is scandalous and would ruin her chances of making a proper marriage and potentially harm her family's new reputation (which is already under threat due to their presence as newcomers). When her diary can't be found, she enlists the help of Lord Darcy to keep her secret feelings and memories under wraps.
Bridget and Darcy were hilarious together. When they first meet each other it is the opposite of love at first sight. Lord Darcy is skeptical of the new American family next door and Lady Bridget did not picture Lord Darcy when she thought of "English gentleman." They don't work together well in the beginning, but their dialogue and flirtation drives the plot. I can't imagine losing a diary (though presently I don't keep one). It would be horrifying...especially at a time where you can lose your reputation based on its contents. Overall, this would be a fun read for romance readers.
4 Stars
This product or book may have been distributed for review, this in no way affects my opinions or reviews. COPYRIGHT © 2014 LIVE TO READ