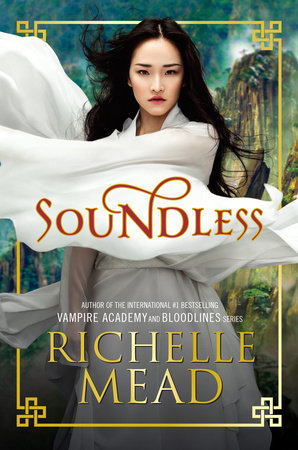 From Richelle Mead, the #1 internationally bestselling author of Vampire Academy and Bloodlines, comes a breathtaking new fantasy steeped in Chinese folklore.
For as long as Fei can remember, there has been no sound in her village, where rocky terrain and frequent avalanches prevent residents from self-sustaining. Fei and her people are at the mercy of a zipline that carries food up the treacherous cliffs from Beiguo, a mysterious faraway kingdom.
When villagers begin to lose their sight, deliveries from the zipline shrink and many go hungry. Fei's home, the people she loves, and her entire existence is plunged into crisis, under threat of darkness and starvation.
But soon Fei is awoken in the night by a searing noise, and sound becomes her weapon.
Richelle Mead takes readers on a triumphant journey from the peak of Fei's jagged mountain village to the valley of Beiugo, where a startling truth and an unlikely romance will change her life forever...
Goodreads Summary
I adored this book. Fei and her community are deaf and going blind. They have lived up in their mountain village for as long as they can remember and mined precious metals. They depend on a zipline for food and the occasional contact with someone from the outside world. Fei is an artist, an apprentice, and paints the days' goings-on. She worries about her sister who is going blind and wants to find a way to make a difference in her community. Li Wei, her childhood friend, inspires her to look outside her village when she begins to regain her hearing. With his help and her own bravery, she makes it down the mountain and into an unfamiliar world.
Fei's character was fantastically wrought. I loved how she felt "real." The author didn't make her unrealistically brave and gave her quiet intelligence. Li Wei was strong, caring, and kind. I loved the descriptions and pictured the scenes in my mind. The author created a strong emotional bond to the characters for me. I really enjoyed how the whole plot came together. This book is recommended to young adult/teen readers.
5 Stars
This product or book may have been distributed for review, this in no way affects my opinions or reviews. COPYRIGHT © 2014 LIVE TO READ