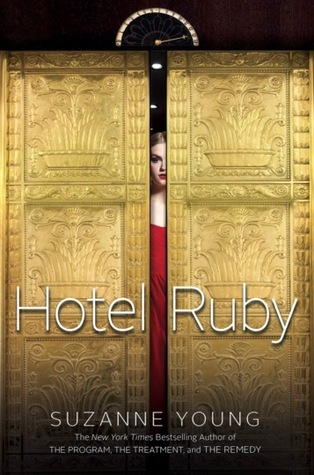 Stay tonight. Stay forever.

When Audrey Casella arrives for an unplanned stay at the grand Hotel Ruby, she's grateful for the detour. Just months after their mother's death, Audrey and her brother, Daniel, are on their way to live with their grandmother, dumped on the doorstep of a DNA-matched stranger because their father is drowning in his grief.

Audrey and her family only plan to stay the night, but life in the Ruby can be intoxicating, extending their stay as it provides endless distractions—including handsome guest Elias Lange, who sends Audrey's pulse racing. However, the hotel proves to be as strange as it is beautiful. Nightly fancy affairs in the ballroom are invitation only, and Audrey seems to be the one guest who doesn't have an invite. Instead, she joins the hotel staff on the rooftop, catching whispers about the hotel's dark past.

The more Audrey learns about the new people she's met, the more her curiosity grows. She's torn in different directions—the pull of her past with its overwhelming loss, the promise of a future that holds little joy, and an in-between life in a place that is so much more than it seems…

Welcome to the Ruby.
Goodreads Summary
I finished this book within three days of starting it. Audrey and her family had recently suffered a terrible loss; her mother passed away at a young age from a stroke. On the way to dropping off his children to live with their aunt, their father stops for a night at the Hotel Ruby. The reader will appreciate the elaborate scenes and intricate details of the Hotel. It is fun to explore the Hotel with Audrey and to discover what the mysterious "party" is all about. I really enjoyed how the author left subtle clues as to the intentions behind the Hotel and its true history throughout the book. If you're paying attention, you might figure out what is going on!
Audrey was a nice enough character. She made a few dumb decisions and I was surprised that she was ready to fall in love after a long term boyfriend and losing her mother. I liked her loyalty to her father and brother. Elias was a handsome enough love interest. I didn't like his initial intentions towards Audrey and thought he should have helped her more. I found it surprising that her father and brother didn't spend much time around her given the circumstances. Overall, I did enjoy the mystery and the book. This book would be ideal for young adult/teen readers.
4 Stars
This product or book may have been distributed for review, this in no way affects my opinions or reviews. COPYRIGHT © 2014 LIVE TO READ