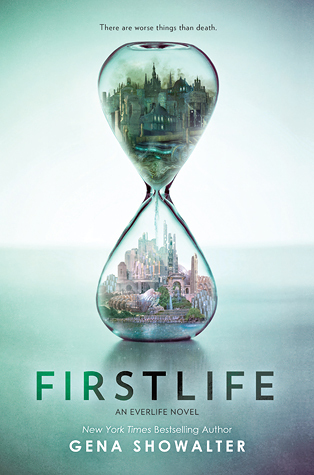 ONE CHOICE.
TWO REALMS.
NO SECOND CHANCE.
Tenley "Ten" Lockwood is an average seventeen-year-old girl…who has spent the past thirteen months locked inside the Prynne Asylum. The reason? Not her obsession with numbers, but her refusal to let her parents choose where she'll live—after she dies.
There is an eternal truth most of the world has come to accept: Firstlife is merely a dress rehearsal, and real life begins after death.
In the Everlife, two realms are in power: Troika and Myriad, longtime enemies and deadly rivals. Both will do anything to recruit Ten, including sending their top Laborers to lure her to their side. Soon, Ten finds herself on the run, caught in a wild tug-of-war between the two realms who will do anything to win the right to her soul. Who can she trust? And what if the realm she's drawn to isn't home to the boy she's falling for? She just has to stay alive long enough to make a decision…
Goodreads Summary
I often think of life as preparing us for whatever happens afterward (I hope there is an afterward!) so this book immediately grabbed my attention. I have a feeling I would end up in Troika (or wherever the rest of my family was), but I liked to think that it would have been cool to make a choice. Tenley has to choose where she will live after she dies (considered more important than living). She refuses to choose and thus must stay in Prynne Asylum until she gives in. For some unusual reason, both realms want Tenley to join their ranks. I at first didn't understand why she mattered as much as she did, but it was an interesting reason once I found out.
Tenley's character was nice enough. She was stubborn, which I appreciated, but sometimes she overdid it. She was very willful and her indeciveness came off, ironically, as decisive and on purpose. Killian and Archer are sort of the love interests and also represent Troika and Myriad (kind of a person representing an institution here). I always love Showalter's writing style; the only thing I might change about the book is how drawn out Tenley's decision was.
4 Stars
This product or book may have been distributed for review, this in no way affects my opinions or reviews. COPYRIGHT © 2014 LIVE TO READ