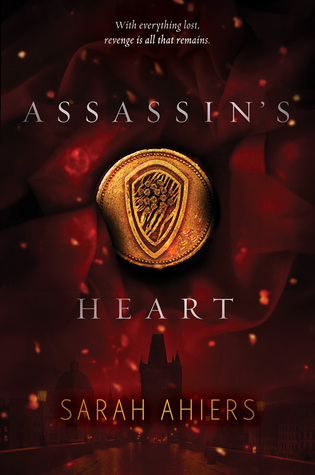 In the kingdom of Lovero, nine rival Families of assassins lawfully kill people for a price. As a highly skilled member of one of these powerful clans, seventeen-year-old Lea Saldana has always trusted in the strength of her Family. Until she awakens to find them murdered and her home in flames. The Da Vias, the Saldanas' biggest enemy, must be responsible—and Lea should have seen it coming. But her secret relationship with the Da Vias' son, Val, has clouded her otherwise killer instinct—and given the Da Vias more reason than ever to take her Family down.
Racked with guilt and shattered over Val's probable betrayal, Lea sets out to even the score, with her heart set on retaliation and only one thought clear in her mind: make the Da Vias pay.
With shades of The Godfather and Romeo and Juliet, this richly imagined fantasy from debut author Sarah Ahiers is a story of love, lies, and the ultimate vengeance.
Goodreads Summary
I loved this book for the plot and setting, but needed a boost mid-way through. Lea Saldana is only a young adult, but she is already a skilled assassin. She is fearless, intelligent, and brave...the only thing that affects her judgement is her love for Val, a Da Vias' man whose assassin family rivals the Saldanas. When Lea discovers her family home burning and under attack she logically knows the Da Vias are responsible, but can't fathom her boyfriend betraying her. Unfortunately, the Da Vias take-down of the Saldanas was largely successful...leaving Lea to avenge her family.
Lea's character was excellent and fun to root for. I loved her cold logic and level-headed intelligence. I did think that for such a smart girl, she made quite a few colossally dumb decisions. The book details her plans to take down the Da Vias and the author added in the best sidekicks for the job. I liked getting to know the other characters. The author's handling of the love interest in the beginning of the book and then shifting gears towards another in the end was well done. About halfway through the book I wanted Lea to just get the whole killing-the-Da Vias over with; the plot could have been a little faster-paced. Overall, this book is recommended to young adult/teen readers.
3 1/2 Stars
This product or book may have been distributed for review, this in no way affects my opinions or reviews. COPYRIGHT © 2014 LIVE TO READ