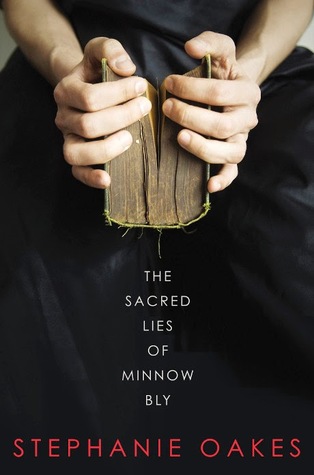 With a harrowing poetic voice, this contemporary page-turner is perfect for fans of Laurie Halse Anderson's Speak, Julie Berry's All The Truth That's in Me, and the works of Ellen Hopkins.
The Kevinian cult has taken everything from seventeen-year-old Minnow: twelve years of her life, her family, her ability to trust.
And when she rebelled, they took away her hands, too.
Now their Prophet has been murdered and their camp set aflame, and it's clear that Minnow knows something—but she's not talking. As she languishes in juvenile detention, she struggles to un-learn everything she has been taught to believe, adjusting to a life behind bars and recounting the events that led up to her incarceration. But when an FBI detective approaches her about making a deal, Minnow sees she can have the freedom she always dreamed of—if she's willing to part with the terrible secrets of her past.
The Sacred Lies of Minnow Bly is a hard-hitting and hopeful story about the dangers of blind faith—and the power of having faith in oneself.
Goodreads Summary
I love books that really suck you in psychologically. I connected to Minnow from the start...which was hard to do given that she didn't reveal much about herself in the beginning. Minnow is a complicated girl from a cult. She doesn't know how to function in the outside world and doesn't know how to trust other people. I can't blame her a bit for the last one. Minnow was around when the Prophet of the cult was murdered and the police want answers. They are accusing her of possible murder and arson; Minnow needs to find her tongue.
I loved Minnow's character. She was strong and smart. I liked learning about her forbidden romance and the emotions it stirred up in her when she thought about it. I hated how she lost her hands (they were cut off) and the how and why of this is left a mystery until later in the book. I would have read at least up until that part due to my burning desire to know. I also wanted to know how Minnow attacked someone and possibly killed him without her hands. I loved the author's take on cults and the book made me question the morality behind them. This book was heart-poundingly good and recommended to young adult/teen readers.
4 Stars
Find this book:
Amazon
Barnes and Noble
The Book Depository
This product or book may have been distributed for review, this in no way affects my opinions or reviews. COPYRIGHT © 2014 LIVE TO READ