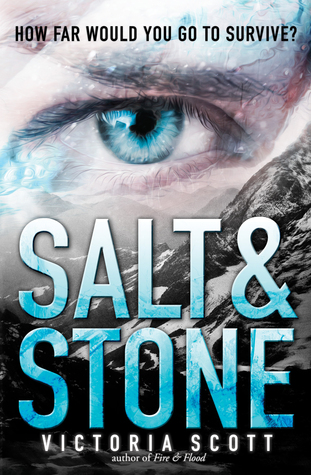 What would you do to save someone you love? What about risking...everything?
In
Fire & Flood
, Tella Holloway faced a dangerous trek through the jungle and a terrifying march across the desert, all to remain a Contender in the Brimstone Bleed for a chance at obtaining the Cure for her brother. She can't stop—and in
Salt & Stone
, Tella will have to face the unseen dangers of the ocean, the breathless cold of a mountain, and the twisted new rules in the race.
But what if the danger is deeper than that? How do you know who to trust when everyone's keeping secrets? What do you do when the person you've relied on most suddenly isn't there for support? How do you weigh one life against another?
The race is coming to an end, and Tella is running out of time, resources, and strength. At the beginning of the race there were 122 Contenders. As Tella and her remaining friends start the fourth and final part of the race, just forty-one are left...and only one can win.
Victoria Scott's stunning thriller will leave readers' hearts racing!
Goodreads Summary
This book was impossible to put down. I had to find out what happened to Tella and her friends after Fire & Flood. The reader finds Tella in the Brimstone Bleed and competing for the Cure. Her friends (and foes) were interesting and fun to read about. I loved how one of her friends returned to help her compete for the Cure. The author manages to craft inventive scenes. I loved how the clever idea of placing blood bags under boats to try to get sharks to go near and potentially eat competitors. I hated the scenes where the Pandoras have to harm each other and fight...or when a contender must fight her/his own Pandora.
Tella shows tensile strength in this book. She is smart, strong, and has luck on her side. She's the epitome of a strong female lead. The others competing in the Brimstone Bleed all have unique and interesting personalities. Willow has quirks and seems odd. Guy has withdrawn from Tella. Braun is strong, but thinks too much of himself. The others are just as fun to get to know. I still think Tella is my favorite with Harper as a close second. Overall, this book is recommended to young adult/adult readers.
4 Stars
This product or book may have been distributed for review, this in no way affects my opinions or reviews. COPYRIGHT © 2014 LIVE TO READ