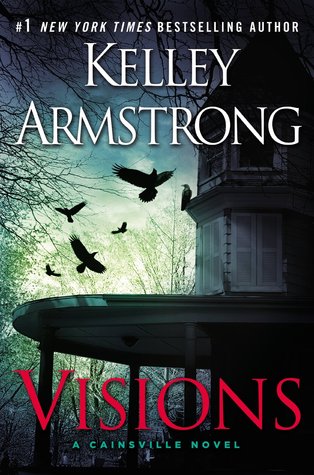 As #1 New York Times bestselling author Kelley Armstrong's new Cainsville series continues, Olivia's power to read omens leads to the discovery of a gruesome crime with troubling connections to her new hometown.
Omens, the first installment in Kelley Armstrong's exciting new series, introduced Olivia Taylor-Jones, daughter of notorious serial killers, and Gabriel Walsh, the self-serving, morally ambiguous lawyer who became her unlikely ally. Together, they chased down a devious killer and partially cleared her parents of their horrifying crimes.
Their success, however, is short-lived. While Olivia takes refuge in the old, secluded town of Cainsville, Gabriel's past mistakes have come to light, creating a rift between the pair just when she needs his help the most.
Olivia finds a dead woman in her car, dressed to look like her, but the body vanishes before anyone else sees it. Olivia's convinced it's another omen, a sign of impending danger. But then she learns that a troubled young woman went missing just days ago—the same woman Olivia found dead in her car. Someone has gone to great lengths to kill and leave this young woman as a warning. But why? And what role has her new home played in this disturbing murder?
Olivia's effort to uncover the truth places her in the crosshairs of old and powerful forces, forces that have their own agenda, and closely guarded secrets they don't want revealed.
Goodreads Summary
If you could see omens that predicted the future, would you tell anyone the impending doom that approaches them. That is what the first book in this series is about and the second one, "Visions" does not disappoint at all. Olivia can see the omens here in Cainsville and it seems that the more that she investigates them, the more trouble she seems to get in.
There are times that the novel seems to be going in circles instead of making forward progress towards solving the mystery at hand. This is not a warning omen towards telling you this is a bad book, you just need to be patient with the plot and let it develop and you will get to the good parts. The magic in this book is great. It is a lot better than the first book in the series as there are a lot more questions that are answered. We also learn a lot more about the characters, which is good because I know a lot of people were complaining about the story being light on back plot. This made things slightly hard to understand at times. However this book picks up that slack well. The story keeps up a great element of fear for the reader as well so those looking for a little horror will not be disappointed. Get your copy of "Visions" and dive in to the adventure.
3.5 Stars
*Reviewed by Chris*
This product or book may have been distributed for review, this in no way affects my opinions or reviews. COPYRIGHT © 2014 LIVE TO READ