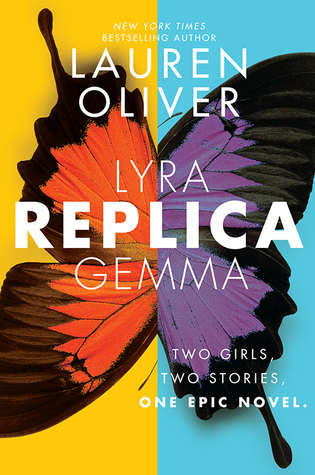 Gemma has been in and out of hospitals since she was born. 'A sickly child', her lonely life to date has revolved around her home, school and one best friend, Alice. But when she discovers her father's connection to the top secret Haven research facility, currently hitting the headlines and under siege by religious fanatics, Gemma decides to leave the sanctuary she's always known to find the institute and determine what is going on there and why her father's name seems inextricably linked to it.
Amidst the frenzy outside the institute's walls, Lyra - or number 24 as she is known as at Haven - and a fellow experimental subject known only as 72, manage to escape. Encountering a world they never knew existed outside the walls of their secluded upbringing , they meet Gemma and, as they try to understand Haven's purpose together, they uncover some earth-shattering secrets that will change the lives of both girls forever...
Goodreads Summary
Lyra and Gemma both live difficult lives, but for different reasons. Gemma is sickly and often alone while Lyra is surrounded by girls, but lonely as well. The novel reads from both of their perspectives (the reader can choose which perspective to read first or switch between them-chapter to chapter). I preferred Lyra's character. She was born and raised at the Haven, a place filled with doctors, scientists, and nurses. The Haven is a mysterious place; the reader will slowly discover the true purpose of the sinister home through Gemma and Lyra.
I began reading through Lyra's perspective first and the book began with a bang, an escapee, and later on...a fire. Lyra had to be taught to read by a sneaky doctor (usually the replicas aren't allowed formal training like reading) and she's used to getting poked and prodded. I really liked that she made up appropriate names for nurses and doctors. She was intelligent, inquisitive, and naive. I had a harder time connecting to Gemma. Lyra seemed larger than life while Gemma fell a little flat for me. I liked how the author wrote the conversations (identical) that the two characters experienced similarly, but not exactly the same. Each girl would have thought through and perceived the conversations a little differently and Lauren Oliver did a wonderful job reflecting that. This book would be well-loved by teen/young adult readers who enjoy action, suspense, and mystery.
4 Stars
This product or book may have been distributed for review, this in no way affects my opinions or reviews. COPYRIGHT © 2014 LIVE TO READ