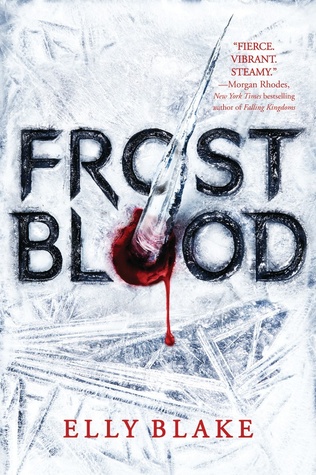 Seventeen-year-old Ruby is a fireblood who must hide her powers of heat and flame from the cruel frostblood ruling class that wants to destroy all that are left of her kind. So when her mother is killed for protecting her and rebel frostbloods demand her help to kill their rampaging king, she agrees. But Ruby's powers are unpredictable, and she's not sure she's willing to let the rebels and an infuriating (yet irresistible) young man called Arcus use her as their weapon. All she wants is revenge, but before they can take action, Ruby is captured and forced to take part in the king's tournaments that pit fireblood prisoners against frostblood champions. Now she has only one chance to destroy the maniacal ruler who has taken everything from her and from the icy young man she has come to love.
Fast-paced and compelling, Frostblood is the first in a page-turning new young adult three-book series about a world where flame and ice are mortal enemies—but together create a power that could change everything.
Goodreads Summary
In the world created by Elly Blake, you don't want to be a fireblood (death sentence). Ruby, a young fireblood, is forced to live in a world that competes firebloods with frostbloods. She is pushed around throughout the novel, first by the rebels and then by the King. When she meets Arcus she is hoping for more of a friend. Instead, she is utilized not as a human, but as a self-made weapon. The book has many twists and turns and the reader will have a difficult time choosing the right place to put Frost Blood down.
Ruby was the best part of this book. She was a strong, witty, intelligent female lead who was her own advocate. For me, the novel moved along at such a fast clip because Ruby's character was so dynamic. She continuously grew and matured through the book and I felt like I slowly became best friends with her. Arcus was a bit of a surprise to me. He was really focused on one thing and one thing only (the cause of the rebels). The chemistry between Arcus and Ruby was unmistakable and wasn't a huge point in the book, but it did exist. I liked that the build up was slow and it didn't resemble insta-love at all. This book would make for a great read on a rainy or beach day (two polar opposites with plenty of time to read!).
4 Stars
This product or book may have been distributed for review, this in no way affects my opinions or reviews. COPYRIGHT © 2014 LIVE TO READ