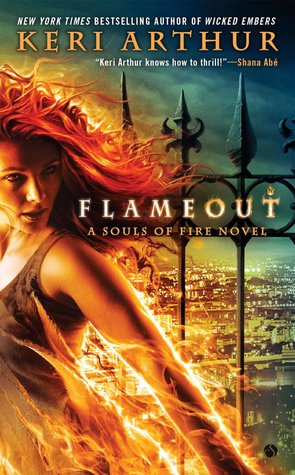 Emberly and her red hot partner, Jackson, have hit an impasse in their battle against the crazed humans infected by a plague-like virus derived from vampire blood. Their quest to unearth the leader of the group leads them into an ambush—and leaves Emberly at odds with her former lover, Sam, who's pressuring her to join his Paranormal Investigations Team.
To make matters worse, three local witches have been kidnapped—and if their spells fall into the wrong hands, Emberly's powers could end up smothered. With time ticking until the virus consumes the world, Emberly and Jackson must race to save the witches, find a cure, and smoke out their nemesis—or go down in a blaze of glory.
Keri Arthur
is the New York Times bestselling author of the Souls of Fire, Outcast, Dark Angels, and Riley Jenson Guardian series, has written more than thirty books. She's been nominated in the Best Contemporary Paranormal category of the Romantic Times Reviewers' Choice Awards and has won a Romantic Times Career Achievement Award for urban fantasy. She lives with her daughter in Melbourne, Australia. She can be found online on her website or follow her on Twitter.
I haven't read the first two books in the series, but, for the most part, I didn't need too much background information to immerse myself in this book. Emberly and Jackson must save kidnapped witches before the loss of these witches begins to affect Emberly's powers. Emberly and Jackson go on a merry chase trying to track the witches down and encounter many obstacles along the way. Her ex-love, Sam, is trying to convince her to help him with his own investigations and-who knows-maybe end up back together (I got some of those vibes). I much prefer Emberly with Jackson though-despite the fact that the pair are definitely in a relationship slump.
I wasn't too fond of the lack of attraction (at least to me) between Emberly and Jackson. I guess it could be an ironic realty that tends to happen for some period of time with any real-life couple. Emberly is still a strong female character. Sometimes she made decisions that I found too-stupid-to-live, but I suppose it made the plot that much more exciting. Sam's character annoyed me. He's very self-entitled and thinks a lot of himself. I enjoyed the author's attention to detail and world-building. I found it easy to picture the vivid scenes. This book would be a great read for a fan of the author or paranormal/romance books.
Please leave a comment with your name and email (USA) for a chance to win a copy of the above book!
This product or book may have been distributed for review, this in no way affects my opinions or reviews. COPYRIGHT © 2014 LIVE TO READ