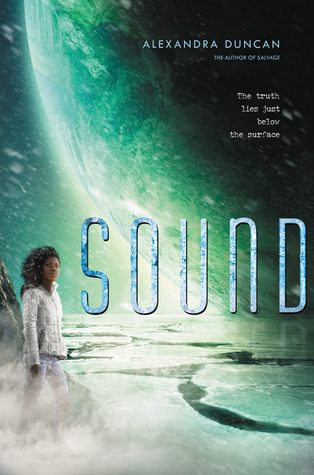 SOUND is the stand-alone companion to Alexandra Duncan's acclaimed novel Salvage, a debut that internationally bestselling author Stephanie Perkins called "kick-ass, brilliant, feminist science fiction." For fans of Beth Revis, Firefly, and Battlestar Galactica.
As a child, Ava's adopted sister Miyole watched her mother take to the stars, piloting her own ship from Earth to space making deliveries. Now a teen herself, Miyole is finally living her dream as a research assistant on her very first space voyage. If she plays her cards right, she could even be given permission to conduct her own research and experiments in her own habitat lab on the flight home. But when her ship saves a rover that has been viciously attacked by looters and kidnappers, Miyole—along with a rescued rover girl named Cassia—embarks on a mission to rescue Cassia's abducted brother, and that changes the course of Miyole's life forever.
Goodreads Summary
If you were a fan of Salvage, then you are in for another ride in this companion novel titled Sound that follows our protagonist as a teenager. What sets this novel apart though, is that this protagonist is a strong woman. There have been so many novels and stories like "Star Trek" that have males as the leader, and this is a welcome diversion from the norm.
Besides that, this book is jam packed with awesome space exploring action that will leave you on the edge of your seat. I always got nervous when there was any movie or book that dove deeply into space travel. You are exposed to the elements, and unlike in a car, when there is damage to your vehicle, you die in space. Another thing that is great about this book, is the diverse mix of cultures that is present throughout the story. It makes sense that many earth cultures would mix once they had to leave the planet, but the author does such a great job at tastefully blending things. All in all, this is a great story and you should definitely give it a try.
3.5 Stars
Reviewed by Chris
This product or book may have been distributed for review, this in no way affects my opinions or reviews. COPYRIGHT © 2014 LIVE TO READ