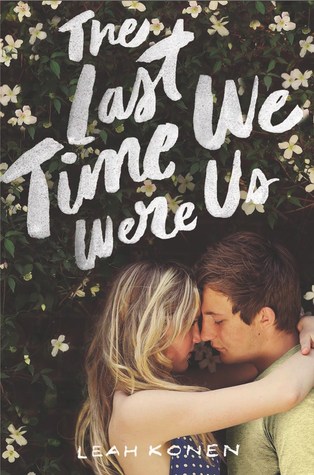 ABOUT THE LAST TIME WE WERE US:
Liz Grant is about to have the summer of her life. She and her friend MacKenzie are getting invited to all the best parties, and with any luck, Innis Taylor, the most gorgeous guy in Bonneville, will be her boyfriend before the Fourth of July.

Local teen convict released early.

Jason Sullivan wasn't supposed to come back from juvie. A million years ago, he was her best friend, but that was before he ditched her for a different crowd. Before he attacked Innis's older brother, leaving Skip's face burned and their town in shock.

"Everything is not what you think."

Liz always found it hard to believe what they said about Jason, but all of Bonneville thinks he's dangerous. If word gets out she's seeing him, she could lose everything. But what if there's more to that horrible night than she knows? And how many more people will get hurt when the truth finally comes out?

"You're the one person who believes in me."

Leah Konen's southern romance swelters with passion as it explores the devastating crush of lies, the delicate balance of power and perception, and one girl's journey to find herself while uncovering the secrets of so many others.
Goodreads Summary
Sometimes things don't end up going right for good people. The blame gets foisted off on people that don't deserve it and because of that punishments get placed on the wrong person for the crime. Liz's old best friend Jason has been in juvie for several years and has lost touch with her while serving his time. Well he is out early and back in the picture, and Liz just doesn't know what to do or believe about the original events that put Jason in his life's predicament. What complicates things even worse is that Liz's current boyfriend is not on board with her and Jason being "buddy buddy" again.
This is a great mystery romance about finding the truth surrounding an old and hurtful event. Liz is confused because what she thinks she knows about everything isn't all the complete truth. What I liked about this story was the sense of familial and friend loyalty that is intertwined in every relationship in this story. I also loved and hated the mystery behind the Jason's story. Things didn't completely add up and it was for a reason. I loved it because the suspense kept me on my toes and excited through much of the story. I hated waiting to find out the truth behind the story. It was a good kind of hate, but my impatience lead me to want to know the answers right away. The author did a great job at balancing the mystery and moving the story along. You get just enough information to keep you interested. Also, the love triangle boy fight is a part of the book that gets just dramatic enough to keep this book on the good end of a romance novel. This is definitely a book you should take a look into.
3.5 Stars
Reviewed by Chris
LINKS: Goodreads | Amazon | B&N | Indiebound | iBooks | The Book Depository
Leah Konen grew up in a two-stoplight farming town in Washington State before moving to suburban North Carolina, where there were many more stoplights and lots of sweet tea. After studying journalism at the University of North Carolina, she headed to New York City to pursue her dream of becoming a writer. When she's not working on novels and articles or writing for fashion brands, she enjoys devouring new books, spoiling her dog, Farley, biking around Brooklyn, checking out live music, and binge-watching TV. Find her online at
www.leahkonen.com
.
Week 2:
3 Finished Copies of THE LAST TIME WE WERE US (US Only)
a Rafflecopter giveaway
This product or book may have been distributed for review, this in no way affects my opinions or reviews. COPYRIGHT © 2014 LIVE TO READ