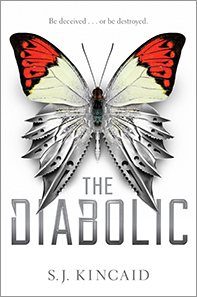 Red Queen meets The Hunger Games in this epic novel about what happens when the galaxy's most deadly weapon masquerades as a senator's daughter and a hostage of the galactic court.

A Diabolic is ruthless. A Diabolic is powerful. A Diabolic has a single task: Kill in order to protect the person you've been created for.

Nemesis is a Diabolic, a humanoid teenager created to protect a galactic senator's daughter, Sidonia. The two have grown up side by side, but are in no way sisters. Nemesis is expected to give her life for Sidonia, and she would do so gladly. She would also take as many lives as necessary to keep Sidonia safe.

When the power-mad Emperor learns Sidonia's father is participating in a rebellion, he summons Sidonia to the Galactic court. She is to serve as a hostage. Now, there is only one way for Nemesis to protect Sidonia. She must become her. Nemesis travels to the court disguised as Sidonia—a killing machine masquerading in a world of corrupt politicians and two-faced senators' children. It's a nest of vipers with threats on every side, but Nemesis must keep her true abilities a secret or risk everything.

As the Empire begins to fracture and rebellion looms closer, Nemesis learns there is something more to her than just deadly force. She finds a humanity truer than what she encounters from most humans. Amidst all the danger, action, and intrigue, her humanity just might be the thing that saves her life—and the empire.
Goodreads Summary
If you could buy a protector that would keep you safe at all costs, and kill to ensure that you make it to the next day, would you make that purchase? Sidonia's father makes that purchase and she quickly bonds with her ruthless Diabolic protector "Nemesis." Nemesis was raised to be ruthless, to have no sense of humor, and to protect Sidonia, even if that means that she dies herself. Nemesis is sent in place of Sidonia when she is called to be a prisoner of the grand Emperor. Will she be able to fake emotions and humanity when her brain is just telling her to kill anything that gets in her way?
I absolutely loved this book. It is like a combination of "Star Wars" meets "iRobot" with a galactic empire and a character that has very robotic and ruthless personality traits. I thought it was interesting how Sidonia's family thought that they could send an almost soul-less humanoid in place of a very emotional character and have any hope of it working out. One thing that I found fascinating, was the brutality of the emperor. The author does a great job at very vividly describing several very nasty scenes. You will end up hating this guy. I also really loved the tension that is created when Nemesis is on the verge of being caught. Along the way Nemesis runs into friends of Sidonia and the character development is so amazing. The author really keeps you guessing as to who is an enemy and who is an ally of Nemesis throughout the whole story and this keeps the events exciting while you are sitting on the edge of your seat. There are so many other things that I could talk about that make this book great, but at this point, I will leave it to you to take a look for yourself.
5 Stars
Reviewed by Chris
This product or book may have been distributed for review, this in no way affects my opinions or reviews. COPYRIGHT © 2014 LIVE TO READ