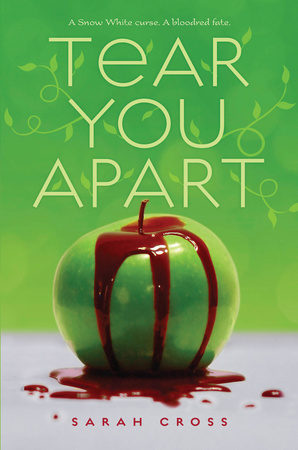 If you want to live happily ever after, first you have to stay alive.
Viv knows there's no escaping her fairy-tale curse. One day her beautiful stepmother will feed her a poison apple or convince her on-again-off-again boyfriend, Henley, to hunt her down and cut out her heart before she breaks his. In the city of Beau Rivage, some princesses are destined to be prey.
But then Viv receives an invitation to the exclusive club where the Twelve Dancing Princesses twirl away their nights. There she meets Jasper, an underworld prince who seems to have everything—but what he really wants is her. He vows to save her from her dark fate if she'll join him and be his queen.
All Viv has to do is tear herself away from the huntsman boy who still holds her heart. Then she might live to see if happily ever after is a promise the prince can keep. But is life as an underworld queen worth sacrificing the true love that might kill her?
Goodreads Summary
This book reminded me so much of
Once Upon a Time
and I absolutely loved it! Viv (with the "Snow White" curse) has a life that has already been predetermined. She knows that her stepmother will somehow kill her. There aren't too many of us that can say that our step-parents want us dead! To make matters worse, Viv has a boyfriend who she loves, but who is destined to kill her. Beau Rivage is a town where fairy tales play out as peoples' lives. Viv is hoping to meet her prince before her untimely demise, but she also wants to find a way to stay with Henley, her hunstman.
I loved how the book included many different types of fairy tales. There are fairy tales that I haven't heard of in a long time and I loved reading about them in this book. Viv's friend has diamonds and flowers spilling from her mouth when she speaks and a girlfriend who is incredibly self-absorbed (Goldilocks curse). The author developed each character both dependent on the fairy tale, but with an independent twist on their personality. I rooted for Viv and Henley throughout the book. Their love seemed real to me. The ending was both unexpected and perfect. This book is recommended to young adult/teen readers.
4 Stars
This product or book may have been distributed for review, this in no way affects my opinions or reviews. COPYRIGHT © 2014 LIVE TO READ