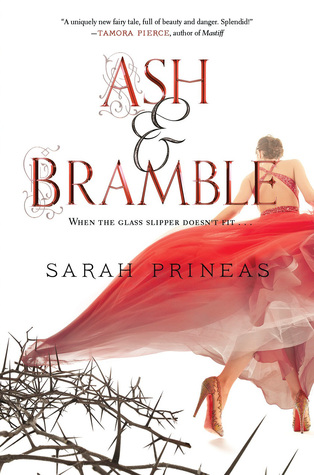 When the glass slipper just doesn't fit…
The tale of Cinderella has been retold countless times. But what you know is not the true story.
Pin has no recollection of who she is or how she got to the Godmother's fortress. She only knows that she is a Seamstress, working day in and out to make ball gowns fit for fairy tales. But she longs to forsake her backbreaking servitude and dares to escape with the brave young Shoemaker.
Pin isn't free for long before she's captured again and forced to live the new life the Godmother chooses for her—a fairy tale story, complete with a charming prince—instead of finding her own happily ever after.
Sarah Prineas's bold fairy tale retelling is a dark and captivating world where swords are more fitting than slippers, young shoemakers are just as striking as princes, and a heroine is more than ready to rescue herself before the clock strikes midnight.
Goodreads Summary
I am a huge lover of Cinderella and all things fairy-tale so this story definitely follows suit with people interested in this genre. This is a re-telling of a very told story and I could see how many may be leery if it doesn't go mostly with what they are familiar with. This story definitely deserves your attention.
I liked the fact that this story is a little bit different than the "normal" Cinderella that we all know. The fact that the fairy godmother is evil is such an awesome twist. It keeps you guessing and I like when I am not predicting every next step in the story. Also, trading her glass slippers for a weapon was so awesome and makes Cinderella so much more action friendly. You have that and so many more twists that make this for such a gripping story. You all should read this thrilling re-telling of Cinderella.
4 Stars
Reviewed by Chris
This product or book may have been distributed for review, this in no way affects my opinions or reviews. COPYRIGHT © 2014 LIVE TO READ