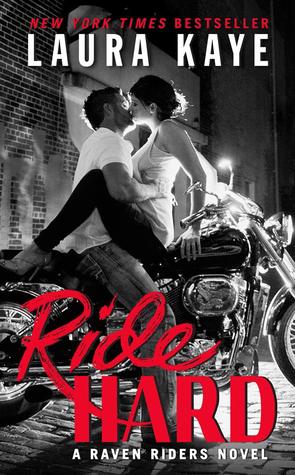 A shy and distrustful woman running from a controlling ex-fiance seeks shelter with an outlaw motorcycle club with a tradition of protecting those who can't defend themselves, and falls under the watchful eye of the club's mysterious and intense leader who's intent on discovering all her secrets

Brotherhood. Club. Family.

They live and ride by their own rules.

These are the Raven Riders . . .

Raven Riders Motorcycle Club President Dare Kenyon rides hard and values loyalty above all else. He'll do anything to protect the brotherhood of bikers—the only family he's got—as well as those who can't defend themselves. So when mistrustful Haven Randall lands on the club's doorstep scared that she's being hunted, Dare takes her in, swears to keep her safe, and pushes to learn the secrets overshadowing her pretty smile.

Haven fled from years of abuse at the hands of her criminal father and is suspicious of any man's promises, including those of the darkly sexy and overwhelmingly intense Ravens' leader. But as the powerful attraction between them flares to life, Dare pushes her boundaries and tempts her to want things she never thought she could.

The past never dies without a fight, but Dare Kenyon's never backed down before . . .
Goodreads Sumary
People run from the things that cause them great distress in their lives. Sometimes it takes them years of bad treatment to realize that getting away is their best option, even if its into the protective arms of a criminal. Haven is on the run from her ex-fiance and finds herself in the protection of a motorcycle gang that watches over those who have trouble on their own. As Haven learns to trust the gang's leader with her secrets, he develops a vengeful protective heart, that wants to seek and destroy the one that caused her all that pain.
This book is definitely a non traditional romance. Usually you will have the bad boy gone good for the good girl. In this story we have the girl that was with the bad boy, going for another bad boy, who wants to hurt the original bad boy. It was really interesting how the author built the world of the motorcycle gang. Their moral code that centers around helping those that can't help themselves is noble and good, but it doesn't make up for the fact that they are a gang and still commit crimes. I found it interesting as well to read about a group of people that couldn't be living a life further than the on that I live. It is intriguing to read about that which you have a lack of understanding. The anger that Dare harbors within himself is very dark and created by the author very well. I definitely would be very scared to meet a man like him in real life, and Laura Kaye makes him seem like real life in her writing. This is definitely a romance that bad boy lovers would love to dive into.
3.5 Stars
Reviewed by Chris
This product or book may have been distributed for review, this in no way affects my opinions or reviews. COPYRIGHT © 2014 LIVE TO READ