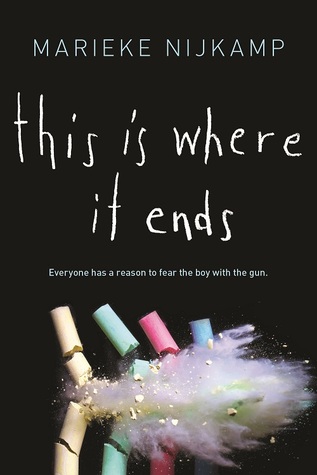 10:00 a.m.
The principal of Opportunity, Alabama's high school finishes her speech, welcoming the entire student body to a new semester and encouraging them to excel and achieve.
10:02 a.m.
The students get up to leave the auditorium for their next class.
10:03
The auditorium doors won't open.
10:05
Someone starts shooting.
Told over the span of 54 harrowing minutes from four different perspectives, terror reigns as one student's calculated revenge turns into the ultimate game of survival.
Goodreads Summary
When I was going to high school it never occurred to me someone could come in and shoot a bunch of students. The author manages to keep this book suspenseful, scary, hopeful, and heart-pounding all at the same time. This is definitely a book that would be easy to read in one sitting. There are multiple characters (4) from multiple points of views from the sister of the shooter to the sort-of girlfriend of the shooter to students who had *nearly* nothing to do with the shooter. The reader will feel with these characters after every gunshot. The book is somehow told within a 54 minute time period and yet is packed with emotions and scenes.
I do with that the author had delved more into the why and how the shooter became the shooter and how the other perspectives tied into his transformation. The book was missing this one crucial piece and really took away from it for me. I rooted for the students to live and hated knowing that someone had been shot. I liked the scenes where the teachers tried to take over and stop the shooter. A large part of me wishes someone else had a gun and whipped it out to kill the shooter prior to any student/teacher deaths. Overall, this is a book worth reading.
3 1/2 Stars
This product or book may have been distributed for review, this in no way affects my opinions or reviews. COPYRIGHT © 2014 LIVE TO READ