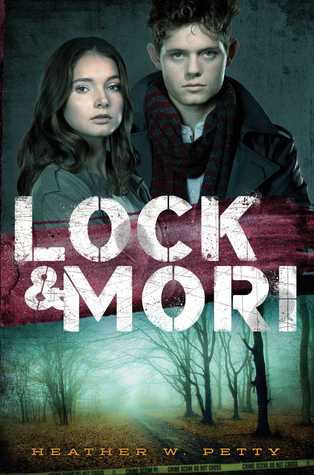 In modern-day London, two brilliant high school students—one Sherlock Holmes and a Miss James "Mori" Moriarty—meet. A murder will bring them together. The truth very well might drive them apart.
Before they were mortal enemies, they were much more…
FACT: Someone has been murdered in London's Regent's Park. The police have no leads.
FACT: Miss James "Mori" Moriarty and Sherlock "Lock" Holmes should be hitting the books on a school night. Instead, they are out crashing a crime scene.
FACT: Lock has challenged Mori to solve the case before he does. Challenge accepted.
FACT: Despite agreeing to Lock's one rule—they must share every clue with each other—Mori is keeping secrets.
OBSERVATION: Sometimes you can't trust the people closest to you with matters of the heart. And after this case, Mori may never trust Lock again.
Goodreads Summary
My mom, sister, and I all loved this book! Heather Petty has the perfect depiction of Sherlock Holmes and his eventual nemesis, Moriarty. I loved how she integrated them into a high school and had them solve a crime together that eventually sets the scene for why Moriarty hates Sherlock. The novel is mainly about Mori and told from her perspective. The reader will love learning about her family and the difficulties she faces. It makes her seem more human and a more pitiable character.
Sherlock is the love interest and eventual nemesis. I found myself mainly on Mori's side even though some of what she did smacks of budding criminal. I loved her character-driven, brilliant, and cunning. The way the book was written was different from what I had scene before and very unique. I'm looking forward to many more books from this author. The way the plot tied together in the end was brilliant on the author's end. I was truly surprised at the ending. This book is perfect for young adult/teen readers...even adult readers!
5 Stars
This product or book may have been distributed for review, this in no way affects my opinions or reviews. COPYRIGHT © 2014 LIVE TO READ