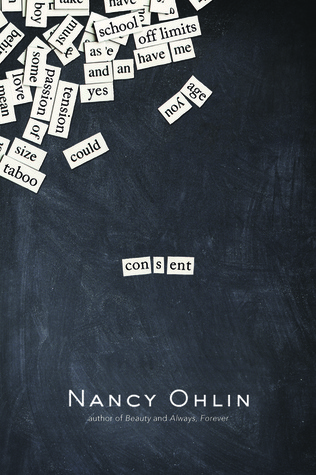 In this sexy and intriguing novel, an intense—and passionate—bond between a high school senior and her music teacher becomes a public scandal that threatens the reputation of both.
Bea has a secret.
Actually, she has more than one. There's her dream for the future that she can't tell anyone—not her father and not even her best friend, Plum.
And now there's Dane Rossi. Dane is hot, he shares Bea's love of piano, and he believes in her.
He's also Bea's teacher.
When their passion for music crosses into passion for each other, Bea finds herself falling completely for Dane. She's never felt so wanted, so understood, so known to her core. But the risk of discovery carries unexpected surprises that could shake Bea entirely. Bea must piece together what is and isn't true about Dane, herself, and the most intense relationship she's ever experienced in this absorbing novel from Nancy Ohlin, the author of Beauty.
Goodreads Summary
I love reading books where there is an attractive, eye-catching older teacher, but in real life I have never met one (that I actually had a crush on). Bea's teacher is everything that she wants in a guy. Dane shares her love for the piano and helps her improve. She relies on him for support, both emotional and esteem. Dane pays attention to her. Their relationship gradually develops to the point of being inappropriate and the author delicately balances the illegal nature of the relationship with matters of the heart.
I don't think I particularly loved any one character from this book. Bea felt like someone I could have been friends with or known from high school. Dane reminded me of a younger version of Will Schuester from Glee. I thought it was interesting how the author didn't make it "insta-love," but grew their relationship from the beginning of the novel. I didn't completely expect the ending and liked how the author tied different aspects and questions of the book up at the end. Overall, this book may be enjoyed by teen/young adult readers.
3.5 Stars
This product or book may have been distributed for review, this in no way affects my opinions or reviews. COPYRIGHT © 2014 LIVE TO READ