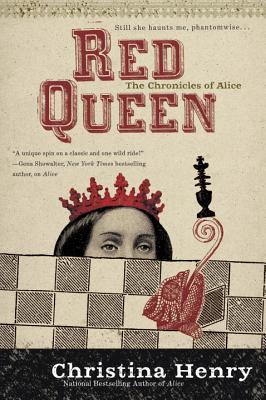 The author of Alice takes readers back down the rabbit hole to a dark, twisted, and fascinating world based on the works of Lewis Carroll...
The land outside of the Old City was supposed to be green, lush, hopeful. A place where Alice could finally rest, no longer the plaything of the Rabbit, the pawn of Cheshire, or the prey of the Jabberwocky. But the verdant fields are nothing but ash—and hope is nowhere to be found.
Still, Alice and Hatcher are on a mission to find his daughter, a quest they will not forsake even as it takes them deep into the clutches of the mad White Queen and her goblin or into the realm of the twisted and cruel Black King.
The pieces are set and the game has already begun. Each move brings Alice closer to her destiny. But, to win, she will need to harness her newfound abilities and ally herself with someone even more powerful—the mysterious and vengeful Red Queen...
Goodreads Summary
I love any take on Lewis Carroll books and this book was certainly no exception. This book was a much darker and more adult view of Alice in Wonderland. It was a little like a world turned sideways. The Cheshire cat was nothing like the fluffy, goofy cat in the movie and the Rabbit was certainly no kind bunny. Alice and the Hatcher are totally committed to finding his daughter despite the dangers and obstacles. I have to point out that this book makes much more sense if one has read the first in the series (that book is just as fast-paced and exciting!).
Alice's character hasn't changed much from the first book. She's still dedicated to helping the Hatcher and committing good acts despite the horrible terrain of Wonderland. Nothing is as she expected it to be and she has two Queens to contend with, each mad in her own way. Alice and the Hatcher develop a relationship much closer than friendship. I thought their romance was sweet and a little unsurprising. Overall, this is a great adult read and a fantastically re-imagined novel.
4 Stars
This product or book may have been distributed for review, this in no way affects my opinions or reviews. COPYRIGHT © 2014 LIVE TO READ