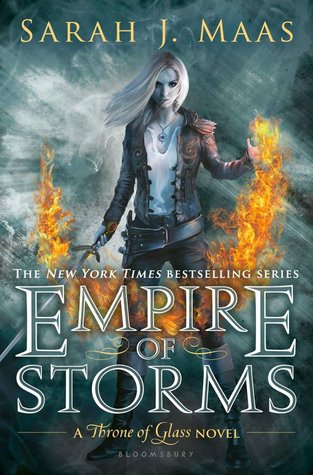 The long path to the throne has only just begun for Aelin Galathynius. Loyalties have been broken and bought, friends have been lost and gained, and those who possess magic find themselves at odds with those who don't.
As the kingdoms of Erilea fracture around her, enemies must become allies if Aelin is to keep those she loves from falling to the dark forces poised to claim her world. With war looming on all horizons, the only chance for salvation lies in a desperate quest that may mark the end of everything Aelin holds dear.
Aelin's journey from assassin to queen has entranced millions across the globe, and this fifth installment will leave fans breathless. Will Aelin succeed in keeping her world from splintering, or will it all come crashing down?
Goodreads Summary
I had trouble with this book though I enjoyed the continuation of the series as a whole. I have to admit that I only skimmed the books before this and read the first two in the series so that could definitely be influencing my opinion. This book furthered the plot from the prior books and did not really begin a new plot so much as tack on to the old one. Some relationships were strengthened and there definitely is adult content. Aelin had such a difficult time getting to the throne and now she is having a difficult time keeping it. There are people aiming to remove her from the throne and cause her trouble.
This book contains so many characters that could be considered "major characters." At times, it was almost a little overwhelming. Their romances were really focused upon, something I partly liked, but would rather have seen as an aside. I did like getting to know each individual character better, but I preferred to focus on Elide and Lorcan instead of the whole cast of Empire of Storms. I will still pick up the next book, but I'm getting a bit tired of this series.
3 Stars
This product or book may have been distributed for review, this in no way affects my opinions or reviews. COPYRIGHT © 2014 LIVE TO READ