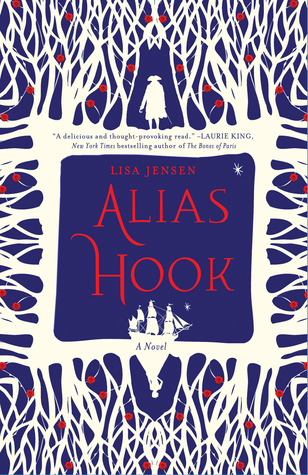 "Every child knows how the story ends. The wicked pirate captain is flung overboard, caught in the jaws of the monster crocodile who drags him down to a watery grave. But it was not yet my time to die. It's my fate to be trapped here forever, in a nightmare of childhood fancy, with that infernal, eternal boy."
Meet Captain James Benjamin Hook, a witty, educated Restoration-era privateer cursed to play villain to a pack of malicious little boys in a pointless war that never ends. But everything changes when Stella Parrish, a forbidden grown woman, dreams her way to the Neverland in defiance of Pan's rules. From the glamour of the Fairy Revels, to the secret ceremonies of the First Tribes, to the mysterious underwater temple beneath the Mermaid Lagoon, the magical forces of the Neverland open up for Stella as they never have for Hook. And in the pirate captain himself, she begins to see someone far more complex than the storybook villain.
With Stella's knowledge of folk and fairy tales, she might be Hook's last chance for redemption and release if they can break his curse before Pan and his warrior boys hunt her down and drag Hook back to their never ending game.
Alias Hook
by Lisa Jensen is a beautifully and romantically written adult fairy tale.
Goodreads Summary
This is a very fun and different take on the familiar Peter Pan story that Disney brought to us many years ago. We still see the same magical environment of Neverland and the charm of Peter and the lost boys and that never ending battle between Hook and the kids. There are a few twists thrown in here to make this book unique and worth reading over other renditions of the story.
I liked the more adult take on the story where the characters are more humanized and we actually feel for Captain Hook as a person. We actually get to a point where the sill battle between him and the kids may end once and for all, and his reign as a terror of Neverland may come to a close. Shifting the perspective to a telling from Hook's eyes also makes the story fresh and exciting on what can sometimes be and overdone and over-told story. We see this poetic and well spoken side of the villain that deepens his character and adds a whole new realm to our concept of the man. If you are a fan of the Pan story line, this book is right up your alley.
5 Stars
Reviewed by Chris
This product or book may have been distributed for review, this in no way affects my opinions or reviews. COPYRIGHT © 2014 LIVE TO READ