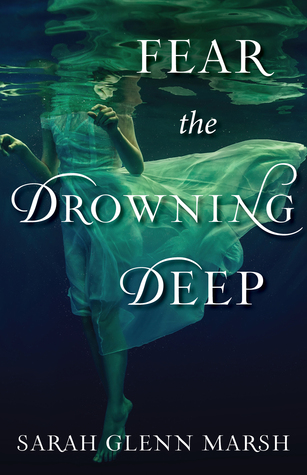 Witch's apprentice Bridey Corkill has hated the ocean ever since she watched her granddad dive in and drown with a smile on his face. So when a dead girl rolls in with the tide in the summer of 1913, sixteen-year-old Bridey suspects that whatever compelled her granddad to leap into the sea has made its return to the Isle of Man.

Soon, villagers are vanishing in the night, but no one shares Bridey's suspicions about the sea. No one but the island's witch, who isn't as frightening as she first appears, and the handsome dark-haired lad Bridey rescues from a grim and watery fate. The cause of the deep gashes in Fynn's stomach and his lost memories are, like the recent disappearances, a mystery well-guarded by the sea. In exchange for saving his life, Fynn teaches Bridey to master her fear of the water — stealing her heart in the process.

Now, Bridey must work with the Isle's eccentric witch and the boy she isn't sure she can trust — because if she can't uncover the truth about the ancient evil in the water, everyone she loves will walk into the sea, never to return.
Goodreads Summary
Besides the gorgeous cover and amazing and unique setting, I loved the intricacy and plot development behind this book. Bridey's grandfather thought he heard singing coming from the sea moments before plunging to his death. Unfortunately for Bridey, trying to explain someone happily drowning comes off a little..insane. Ever since the incident with her grandfather, she has hated the water. Her suspicions were confirmed when a dead girl washes up on shore and, later, a boy with wounds (who Bridey is able to save). Bridey knows that something devilish is brewing in the sea, but she isn't sure how to figure out what or how to stop it.
Bridey's character was lovely. She was part detective, scared villager, witch seeker, and love interest. For the most part, she didn't make any wildly inane decisions and I liked her willingness to challenge the evil in the sea. Fynn was a worthy love interest. He wasn't just there for the romance; the wounds he had when he was rescued from the sea were a mystery in and of themselves and he helped Bridey overcome her fears of the sea throughout the novel. Morag's character was possibly my favorite witch of all time. I liked her unusual ways and that she didn't care what others thought. Her character was mysterious and fascinating. The relationships between the characters were well-developed and helped lead up to the finale. I thoroughly enjoyed the ending.
4 Stars
This product or book may have been distributed for review, this in no way affects my opinions or reviews. COPYRIGHT © 2014 LIVE TO READ