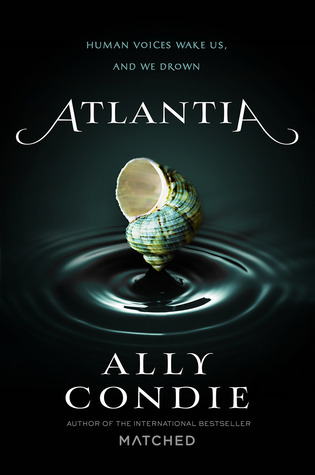 Can you hear Atlantia breathing?
For as long as she can remember, Rio has dreamt of the sand and sky Above—of life beyond her underwater city of Atlantia. But in a single moment, all her plans for the future are thwarted when her twin sister, Bay, makes an unexpected decision, stranding Rio Below. Alone, ripped away from the last person who knew Rio's true self—and the powerful siren voice she has long hidden—she has nothing left to lose.
Guided by a dangerous and unlikely mentor, Rio formulates a plan that leads to increasingly treacherous questions about her mother's death, her own destiny, and the complex system constructed to govern the divide between land and sea. Her life and her city depend on Rio to listen to the voices of the past and to speak long-hidden truths.
Goodreads Summary
Those expecting mermaids are in for a surprise when you break the pages of this book. The city of Atlantia is underwater but it is humans that live in it as a sanctuary under the sea. It was fascinating to read about how the humans adapted to living there and how they interact knowing that there is a land above that is attainable with warm sun and sand under the feet. Many of the people have a yearning for that which they don't have and it shows as the characters will do whatever it takes to have a chance at getting a taste of it.
Rio is one of those that is yearning for the surface. The sun on her face and the water below instead of above her as she goes about her daily routine. I felt her pain though when her sister stabbed her in the back and took her opportunity to get out. Because of her sister, she is now left behind and the feelings of underwater isolation continue. On top of the beauty presented with the underwater world, the author's writing style really shines throughout the book. This is a book that can be appreciated for the story as well as the imagery that is gorgeously laid out. Another thing I liked was the animosity that was apparent between the surface and underwater dwellers. They hate because that is what the culture tells them to do and it gives you a "sharks vs. jets" feel. Overall, this book is something that is much more than expected and definitely worth exploring.
4 Stars
-Reviewed by Chris-
GIVEAWAY:
Post a comment with your email and a comment to win! *USA*
This product or book may have been distributed for review, this in no way affects my opinions or reviews. COPYRIGHT © 2014 LIVE TO READ