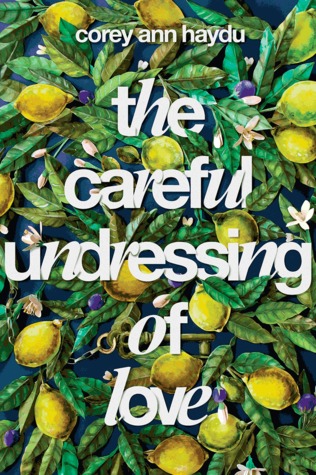 A smart, sexy, and surprising story of love and death set in an eccentric Brooklyn neighborhood where history since 2001 has unfolded differently than we remember.
Everyone who really knows Brooklyn knows Devonairre Street girls are different. They're the ones you shouldn't fall in love with. The ones with the curse. The ones who can get you killed.
Lorna Ryder is a Devonairre Street girl, and for years, paying lip service to the curse has been the small price of living in a neighborhood full of memories of her father, one of the thousands killed five years earlier in the 2001 Times Square Bombing. Then her best friend's boyfriend is killed, and suddenly a city paralyzed by dread of another terrorist attack is obsessed with Devonairre Street and the price of falling in love.
Set in an America where recent history has followed a different path, The Careful Undressing of Love is a love story that will leave readers breathless and unsettled.
Goodreads Summary
Devonairre Street girls fall in love and their "victim" dies. Lorna is a girl born and raised on Devonairre street. She has been in love with a bo for a long time, but too terrified to act upon her feelings. She feels like her own father has fallen victim to the curse. The reader follows Lorna and her friends and how they approach their fears and try to rationalize just what is happening both worldwide and internally.
I both liked and disliked Lorna's character. I ultimately think I would have needed to get to know her better in order to make a firm decision. Many of her actions seemed foolhardy and overblown, but the author managed to write her as if she were a teen perfectly. I really enjoyed the overall feel of the book. It's an odd thing to say, but I didn't think I liked magical realism as a genre as much as I did with this book. The ending was a bit of a disappointment (though realistic!) and I am looking forward to reading more from this author!
4 Stars
This product or book may have been distributed for review, this in no way affects my opinions or reviews. COPYRIGHT © 2014 LIVE TO READ